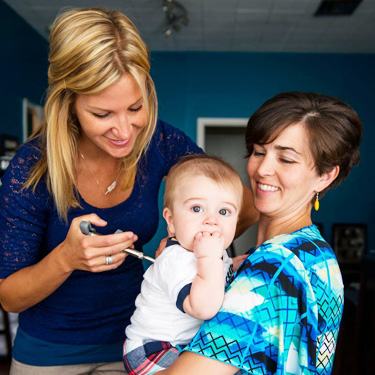 We Can Help
Our Kansas City chiropractic office uses procedures and adjunctive services that help our patients enjoy the fastest results in the shortest amount of time.
Like other chiropractors in Kansas City and elsewhere, there are certain health conditions we especially enjoy helping. Sometimes it's because they're challenging, and other times because it's so gratifying to see results after traditional methods are unsuccessful.
For us, our most rewarding cases involve…
It's wonderful to see how quickly a child can recover when his or her nervous system is operating at peak efficiency. We regularly see children with bedwetting issues, infant colic, scoliosis and postural problems.
Don't forget Mom! Chiropractic care during pregnancy is a safe and effective way to alleviate pain, discomfort and bodily distress as a pregnant woman grows in size.
Headaches are common, but they're not normal. We enjoy uncovering the underlying cause of headaches and helping our Kansas City area patients who are wary of taking drugs and enduring their side effects.
Our spinal decompression services have helped many patients avoid unnecessary surgery and pain medications. Our all-natural approach helps strengthen and retrain supporting muscles and soft tissues of the spine.
Schedule Your Appointment
If you're considering chiropractic care, I hope you'll give us the opportunity to serve you and your family! Give us a call today to see if we can help you.
CONTACT US »
---
Fountain of Life Family Chiropractic Can Help | (816) 741-4711